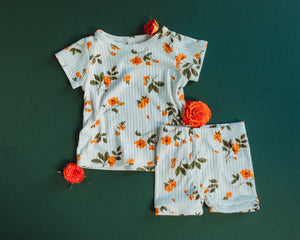 Summer Staple Sets are a slim fitting lounge set perfect for layering or wearing as is. These are a fan favorite. This set features short sleeves and biker length shorts. Bottoms have our classic gusset detail just like our regular staple sets. 
Unlike our normal staple sets, all shorts are made with elastic waist.
California Poppy is a silky rib featuring an orange poppy details with green leaves on a white background.
Matching Sibling Suggestions:
Summer Staple Set in Vintage Peony
Basic Tee in Peaches and Cream
Hooded Pocket Tee in Seaweed and Vintage Peony
All Sales are Final.
There is a Buy/Sell/Trade Facebook Group that you are free to resell your items.
No changes can be made after orders are placed including changes to sizes. Due to the nature of our work these orders begin once placed.

Shipping Disclaimer:
Please check your order details and shipping address on your cart carefully before making payments.
Due to volume, shipping address cannot be changed after order is placed.

Shipping and Turnaround Time:
*The items in this collection will ship by July 20th*

*Due to variations in monitor settings, the color you see on the screen may vary slightly from the clothes you receive*

Current Sizing Chart